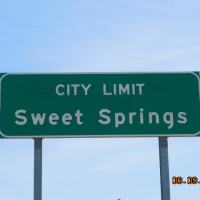 Two Sweet Springs residents have been formally charged with felonies after an incident at the Sweet Springs City Cemetery last year.
According to a probable-cause statement filed with the Saline County Circuit Court, a law-enforcement officer was dispatched to the cemetery to investigate the report of an individual allegedly pointing a gun at three different persons on May 13, 2016.
The officer's statement says he approached the vehicle occupied by Larry Zimmerschied with his gun drawn and verbally commanded Zimmerschied to exit the truck. After verbal commands reportedly did not work, Zimmerschied put the truck in reverse and began to back up. The officer reportedly jumped on the side of the truck to avoid being hit. After Zimmerschied put the vehicle in park, a scuffle to try to remove Zimmerschied ensued, during which the officer noticed a pistol lying on the middle console and tried to remove it. However, Zimmerschied reportedly grabbed the officer's arms and began fighting and scratching. After breaking free from Zimmerschied, the officer reportedly grabbed the Ruger pistol, which later was found to be loaded, had a bullet in the chamber and was off safety.
During the altercation, Zimmerschied's wife, Kelly, allegedly attempted to pull the officer out of the truck.
According to online court documents, Larry and Kelly Zimmerschied each has been charged with a Class D Felony for Resisting or Interfering with an Arrest for a Felony. Bond for each was set at $5,000 cash or surety, with one of the conditions being no contact with the alleged victims.
Future dates in Saline County Circuit Court are pending.