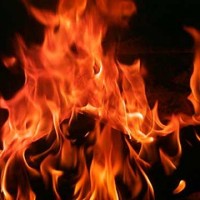 An area fire department responded to a structure fire on Saturday, March 18.
According to a spokesperson for the Johnson County Fire Protection District, at around 11:20 p.m., firefighters with Station No. 3 were toned out to a report of a blaze in the 200 block of South Pennsylvania Avenue in Chilhowee.
Upon arrival, firefighters noted a two-story house that was fully engulfed in flames and had started to collapse. Firefighters were on the scene until 4:53 a.m. on Sunday. The house was unoccupied at the time of the fire.
The house was deemed a total loss, with its estimated value around $100,000.
No injuries were reported from the scene, and the cause of the fire is still under investigation.