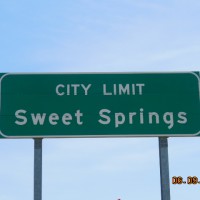 Heading off possible problems in the future involving multiple bids the city would receive from vendors on a certain project, the Sweet Springs Board of Aldermen passed an ordinance at its meeting Tuesday night.
City Clerk Michelle Fuehring explains.
The ordinance– which includes in-depth protest rules– went into effect right after it was approved.
In other news from the meeting, Fuehring said the board approved the installation of a stop sign at the request of a resident. The stop sign is being placed going north on Bridge Street at the intersection of Main Street. Fuehring said the sign could be in place by as early as today (Wednesday, October 11).
The board also selected the bid for $10,730 from Marshall Welding to replace the bed on a city dump truck. Fuehring said there also was a bid received from Knapheide Truck Equipment, of Kansas City.
In other actions taken, the board OK'd a 5K Run to be held starting at City Hall and following a route through the city on Sunday, October 22, with proceeds to benefit Sweet Springs After Prom; and the Fair Board to conduct a Chicago Ball Tournament, games using a 16-inch softball, the first weekend in November, with proceeds to benefit the Fair Board.