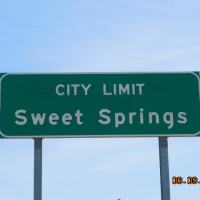 Sweet Springs was without a city pool to serve its residents for the 2017 season. The residents of the city passed a bond issue for $305,000 to repair the pool in 2016. But after a thorough examination of the pool by an independent contractor, it was clear that that amount of money wasn't going to be nearly enough to fix all of the facility's problems.
So, during the meeting of the Sweet Springs Board of Aldermen on Monday, November 13, Alderman Boyd Jones said the city needs to quit kicking the can down the road. The city has received information from two bond underwriting firms, with L.J. Hart's estimate for a $1.035 million bond estimated to raise the personal-property taxes on residents about $100 per year on real-estate value of $100,000. The current bond the city is paying for the pool will be paid off in May 2018.
Although the verbiage of the ballot issue to be put before voters still has to be worked out, Jones says the time is now to let the voters decide whether or not they want to fix the pool.
The board voted 3 to 1 to gather more information, draw up ballot language and put the question before voters during the April 2018 Municipal Election. City Clerk Michelle Fuehring says the question needs to be finalized and submitted to Saline County Clerk Debbie Russell for inclusion on the ballot by mid-January.