The management and operations of Concordia's yard-waste facility was a main topic of discussion during a regular-session meeting of its Board of Aldermen on Monday.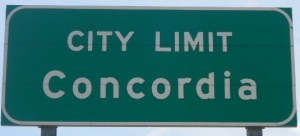 One of the management operations was the burning of yard waste at the facility. The problem of burning reportedly causes smoke to travel to a nearby Tyson's food plant and cause USDA violations for the facility. The city is permitted to burn up to five cubic yards of waste, but not at the expense of causing problems for the plant.
To remedy the problem, the board invited a representative from Heartland Waste, of Warrensburg, to give suggestions for picking up the waste. One suggestion was to put a 30-cubic-yard container on-site for residents to discard the waste.
But Concordia officials are concerned the height of the container, which is 6-foot tall, could become a problem for some residents to utilize.
City Administrator Dale Klussman offered a possible solution to that particular problem.


Klussman also set a tentative date of January 1 when no burning will take place at the facility.