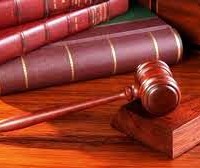 A jury in Lafayette County convicted a Lexington man of two felony charges during a trial in September. At a sentencing hearing on Monday, November 21, the defendant was sentenced to spend five decades in the Department of Corrections in Jefferson City.
According to a release from Lafayette County Prosecuting Attorney Kristen Ellis Hilbrenner, 49-year-old Tracy Black was sentenced to serve 25 years for Robbery in the First Degree and 25 years for Armed Criminal Action, with the sentences to run consecutively.
The case arose after officers from the Lexington Police Department, Lafayette County Sheriff's Deputies and Missouri State Highway Patrol Troopers were dispatched to Bharti Liquor in Lexington for a reported armed robbery in progress on September 24, 2014.
After an investigation, which included surveillance video and input from the clerk and two other area residents, authorities obtained a search warrant and served it at the house where Black was residing, where they reportedly found the clothing matching the description of the clothing Black was wearing during the robbery and the bank bag stolen during the robbery.
When pronouncing the sentence for Black, the judge reportedly said he believed Black to be a risk to re-offend, and that he did not want to see him get out of the Department of Corrections.
Co-defendant in the case, Brandi Paddock, who reportedly drove Black to the store and away from the store after the robbery, pleaded guilty for her role in the robbery and currently is serving 15 years in the Department of Corrections.