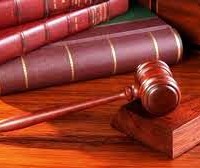 A Boonville teen is facing multiple felony charges after a string of alleged incidents that occurred earlier this year in Cooper County.
According to a probable-cause statement, on April 23, Boonville Police officers responded to a report of an alleged armed robbery at a gas station in the 900 block of Main Street.
Upon arrival, officers spoke with the cashier who reported that the suspect pointed a handgun at her and demanded money, where the suspect reportedly left the scene after receiving the cash. Officers viewed video surveillance and identified the alleged suspect as 16-year-old Trenton Johnson.
During the investigation later that day, Johnson allegedly tried to force his way into a gas station in the 1100 block of Main Street, where Officers reportedly located and apprehended Johnson after an alleged foot chase. Johnson reportedly escaped the patrol vehicle briefly and was eventually transported to the police department jail. Reportedly, the handgun in Johnson's possession was reported as stolen by a Boonville resident on April 22.
Online court documents state Johnson has been charge with the following: a Class A Felony for First-Degree Robbery; a Class B Felony for First-Degree Attempted Robbery; an Unclassified Felony for Armed Criminal Action; a Class D Felony for Stealing of a Firearm; and two Class E Felonies for Unlawful Use of a Weapon-Exhibiting and Resisting of Interfering with an Arrest for a Felony. Bond was set at $150,000 cash or surety.
A future date for Johnson at Cooper County Circuit Court in Boonville is pending.