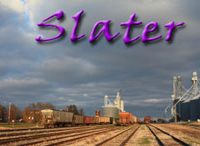 The Slater City Council discussed a situation regarding the replacement of a raw water line for the Water Plant during a meeting on Tuesday, December 5.
City Administrator Gene Griffith talked about a recent leak at the Water Plant which should have been an easy fix.
Griffith said the crews had to dig further out and eventually fixed the problem.
Again, Irvinbilt Contractors, of Chillicothe replaced the raw water line for $5,000.
In other business, Mayor Dr. Stephen Allegri said holiday trash pickup this year will be held on the Fridays before Christmas and New Year's Eve, which is December 22 and 29. Also, the council voted to have its next meeting on Tuesday, December 19.