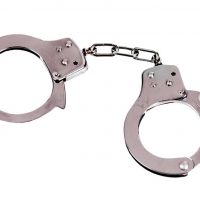 A Branson man is facing several felony charges for allegedly resisting arrest and assaulting a police officer in Boonville on Monday, July 9.
A probable-cause statement says just before 8 a.m., Boonville Police officers responded to a disturbance in the area of Orschlen's Farm and Home. While en-route, officers made contact with the suspect's vehicle in the 400 block of Americana Street and spoke with the driver, 39-year-old Robert Bockting.
Bockting reportedly was acting suspicious and smelled of burnt marijuana. Officers tried to detain Bockting, but he fled on foot and fought with officers for an extended period of time. Bockting reportedly tried to take a taser from an officer as he was being subdued, where the officer sustained a large scrape on his forearm. After detaining Bockting, officers found him in possession of eight grams of methamphetamine and drug paraphernalia.
Online court documents say Bockting has been charged with a Class E Felony for Resisting Arrest and two Class D Felonies for Possession of a Controlled Substance and Third-Degree Assault-Special Victim, as well as a drug-related misdemeanor. Bond was set at $20,000 cash or surety.
Bockting's initial hearing at Cooper County Circuit Court is pending.