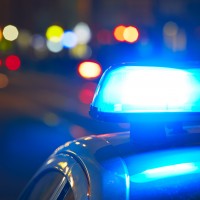 A Sedalia woman has been charged with felonies for allegedly throwing knives at victim during an incident last month in Pettis County.
A probable-cause statement says Pettis County deputies responded to report of a disturbance in progress at a residence in the 5300 block of Oak Point Lane on October 31. Deputies first spoke with 38-year-old Levette Thorne who reportedly told the deputies to arrest her or she was going to kill the victim. When asked questions about the situation, Thorne reportedly kept commanding the deputies to arrest her, which they eventually did.
Deputies then spoke to the victim who stated Thorne allegedly threatened him by chasing him around the residence with a butcher knife and threw six to seven knives at him. The victim reportedly provided the deputies with a video of the incident which showed Thorne pursuing the victim with a large knife and making verbal threats to kill him. Deputies reportedly noticed several knives on the floor throughout the residence.
Online court documents say Thorne has been charged with an Unclassified Felony for Armed Criminal Action and two Class E Felonies for Third-Degree Domestic Assault and Unlawful Use of a Weapon-Exhibiting. Bond has been set at $50,000 cash or surety.
Thorne's initial hearing is pending at Pettis County Circuit Court.