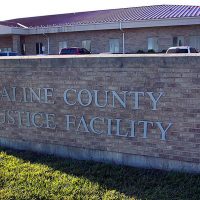 The man who was the subject of a man hunt following a double shooting in October is now in custody in Saline County.
Marshall resident, 41-year-old Terrelle Palmer is believed to have been the person involved in a double shooting that left three people injured and another dead and sparked a city wide lock down on October 2, 2019. Palmer was apprehended in Mississippi on October 18 and has been returned to Saline County.
According to online court documents, Palmer is facing multiple felony charges including a Class A Felony for Murder in the First Degree, three counts of Class A Felony for Assault in the First Degree or Attempt Serious Injury or Special Victim, two counts of an Unclassified Felony for Armed Criminal Action, a Class B Felony for Burglary in the First Degree, a Class D Felony for Endangering the Welfare of a Child Creating Substantial Risk in the First Degree and a Class D Felony for Unlawful Possession of a Firearm.
Due to the severity of the charges the court has ordered no bond.
Palmer appeared in custody via video for an Arraignment Hearing on Tuesday, November 5 at which time the Court determined that Palmer cannot meet the conditions of release. Palmer was advised of the right to a release hearing within seven working days.
Palmer remains in custody after his release hearing on Wednesday, November 6, at Saline County Circuit Court. Public Defender, Stephen Murrell notified the Court that he has a conflict on this case and a Special Public Defender will file an entry of appearance.
A counsel status hearing is scheduled for 10 a.m. Monday, November 13, at Saline County Circuit Court.