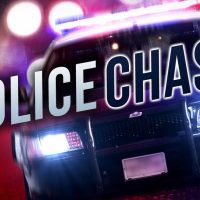 He wasn't driving a white Ford Bronco, and it wasn't on an interstate, but a felony charge has been filed against a 26-year-old Bates City man after he allegedly led a law-enforcement officer on a low-speed pursuit on November 16.
A probable-cause statement says a Lafayette County deputy attempted to make a traffic stop on Route Z near Concord Church Road. However, the driver of the suspect vehicle refused to stop despite the siren and flashing lights.
The suspect reportedly drove between 20 and 30 miles per hour on several roadways- including on Baptist, Arey, Whipple, Uthe and Linn Roads- until he pulled into his driveway. At that point, he immediately complied with the deputy's requests and was taken into custody. Clayton Wayne Gamblin reportedly told the deputy he did not stop because he had warrants, and he wanted to see his girlfriend before going to jail.
Court documents say a warrant has been issued and Gamblin has been charged with a Class E Felony for Resisting Arrest for a Felony. Bond has been set at $7,500 cash or surety.
Gamblin's initial hearing is pending at Lafayette County Circuit Court.