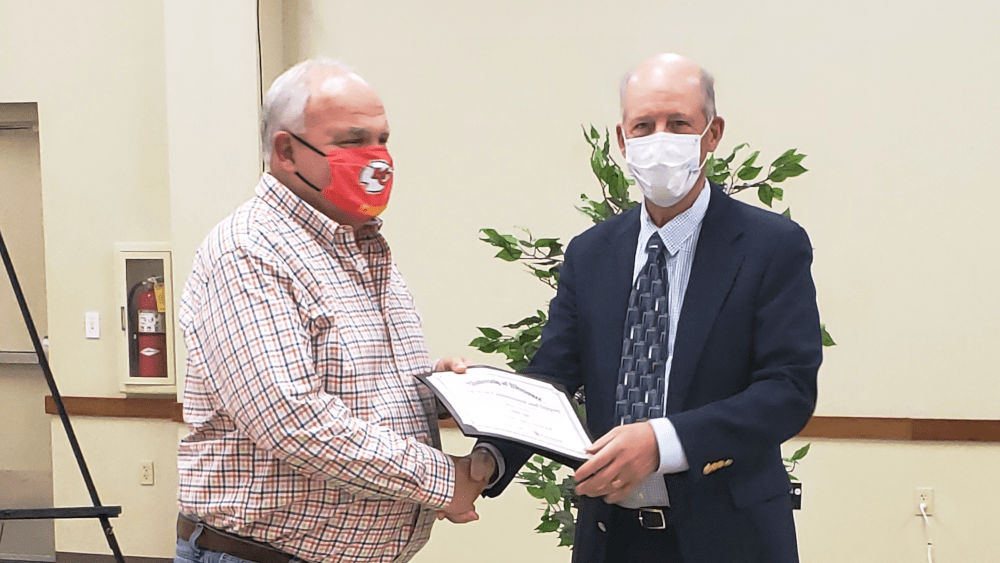 For more than 100 years, the University of Missouri Extension has extended university-based knowledge beyond the campus into all counties of the state by strengthening families, businesses and communities. To honor outstanding local leaders and volunteers who have supported and helped to advance MU Extension in their communities, Saline County Extension held its annual Recognition Night on Thursday, November 19. The 2020 Century farms families from Saline County also were recognized.
Sam Igo, of Marshall, was selected for the MU Extension Leaders Honor Roll. Igo has served on the Saline County Fair Board for around 40 years and as the Fair Board President for the past 30 years. He has donated leadership, time and resources to support 4-H, agriculture programs and Extension in Saline County. Selection for the Honor Roll is based on community leadership efforts that support MU Extension's efforts to enhance economic viability, build strong individuals, families and communities and create and sustain healthy environments.
The Partners in Education Award went to Cargill. This award recognizes the partnership and support of local organizations and businesses in maintaining high-quality Extension programming. Cargill has been a supporter of 4-H for several years, donating meat for the Saline County Fair cook shack and County Fair sponsors, the Saline County BBQ, and is a strong supporter of many Saline County organizations and events. Ryan Conway accepted the award.
Century Farm Families have been recognized in Saline County for 44 years, and as of 2020, 195 families have been inducted. To become a Century Farm, the same family must have owned the farm for 100 consecutive years; the farms consists of no less than 40 acres of the original land; and shall make a financial contribution to the overall farm income. The inductees for 2020 were:
· Reynolds-Lemmon: Benjamin Franklin Reynolds purchased the Reynolds-Lemmon farm near Napton in 1918, and the farm is now owned and operated by BT and Betty Lemmon.
· Harris: Jeremiah and Julia Harris founded their farm in 1920. Joe Summers, their Great-Great Grandson, continues to farm row crops and maintain a shop on the property.
· Burfeind: The Burfeind Farm was originally owned by John and Augusta Burfeind. Ronald and Peggy Burfeind own and operate the farm today.
· Deis: Henry C. Deis purchased his farm near Gilliam in 1908. It is currently owned by Bud and Kim Summers.
If you are interested in recognizing your Saline County farm at the 2021 event, you should contact Michelle Johnston at the Saline Extension office via e-mail or phone, SalineCo@missouri.edu or (660) 886-6908.
Photo: Sam Igo, left, is presented the award by Jack Harvey. Photo courtesy Saline County University of Missouri Extension.