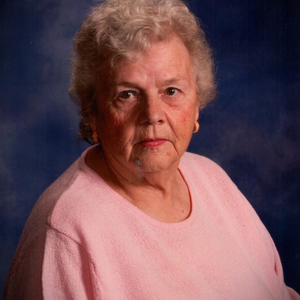 Janice Lee Jones, 85, of Marshall, MO, passed away Tuesday, January 11, at Fitzgibbon Hospital in Marshall.    
Funeral services will be held at 11 a.m. Tuesday, January 18, at Campbell Lewis Chapel in Marshall, with William W. Harlow officiating. Burial will follow at Ridge Park Cemetery. Visitation will be from 10 to 11 a.m. Tuesday at the funeral home. Memorials are suggested to Meals on Wheels and an online register book is available at  www.campbell-lewis.com
Born July 10, 1936, at the family home in Pettis County, she was the daughter of the late James Herbert and Loueva Alberta Donnell Cunningham. On October 26, 1952, she married James Lyle Jones and preceded her in death on August 22, 2006. Together they had five children and raised them on their farm in Saline County. They spent their years working on the farm, she worked many years at Stuckey's and managed the Oasis Café at Marshall Junction.  Janice loved flowers, roses were her favorite. She enjoyed spending time outside making the farm beautiful with her flowers and working in her garden. The most important part of her life was spending time with her family and grandchildren. Janice attended New Salem Baptist Church, was a member of the New Life Fellowship Church and First Baptist Church in Marshall where she was baptized. In her later years, Janice enjoyed visiting with her friends over coffee in her community and at McDonalds; she enjoyed walking in her neighborhood and spending her time with her pets.  
Janice is survived by her four sons: Danny (Priscilla) of Marshall, Ronnie of the Philippines, Randy (Pam) of Nelson, and James (Christy) of Blue Springs; five granddaughters: Sonya Summey (Aaron), Cara Johnson (John), Danielle Elsenrath (Darin), Brandal Lovell (Kiel), Brittany Jones; five grandsons: Byron Jones (Rebecca), Guy Jones, Tyler Jones, Ryan Jones (Lacey), Kyle Jones; eighteen great-grandchildren; two great-great-granddaughters; two sisters, Dorothy Louise Cunningham of Overland Park, KS and Carol Roush of Lee's Summit, MO; one sister-in-law, Wanda Elsea (Ed) of Marshall; as well as several nieces, nephews, cousins, other extended family and countless friends. 
In addition to her parents and husband she was preceded in death by one infant daughter, Joyce Lee; two grandsons, Christopher Hall Jones and David Heath Jones; one sister, Patricia Jo Saragusa; and two brothers; Gary Dean Cunningham and James Dale Cunningham.