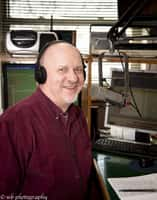 Larry Smith
Larry started working at KMMO in 1997, as a weekend overnight announcer. He soon moved to the 6pm to midnight shift on weekends, then to the late night air-shift Sunday through Friday evenings, before becoming the full time overnight DJ. He served as board operator and producer for "In the Outdoors With Brad and Brian" and "Sports of All Sorts" from the beginning of both shows for several years and still serves as the board operator for the "Pigskin Postgame" and "Roundball Wrap-up" sports shows.
Larry still works as the overnight announcer for KMMO and now is a co-ag director, and enjoys visiting with farmers, producers and ag leaders from across the state.
Larry is a graduate of Slater High School and attended State Fair College in Sedalia. He has two children, Justin, with wife Abby of Miami, MO, and Heather Burton, with husband Brad of Cleveland, TN. He enjoys fishing, Royals baseball, playing guitar, traveling and listening to all varieties of music and especially loves spending time spoiling his grandkids, Maci, Hunter, Wyatt and Austin.