Rainbow trout fishing is a winter tradition in Sedalia, and a news release says the Missouri Department of Conservation (MDC) stocked 1,300 trout in Liberty Park Pond on November 1.
This is a partnership between MDC and the Sedalia Parks and Recreation Department. The winter trout program offers MDC a chance to partner with cities and counties to offer anglers close-to-home fishing opportunities.
Trout are not native to Missouri; but in winter, when the water is cold enough and holds sufficient oxygen to support trout, selected lakes and ponds in urban areas are stocked to provide close-to-home trout fishing.
Anglers with a valid Missouri fishing permit can fish for the trout on a catch-and-release basis at Liberty Park Pond until February 1, 2019. Starting on February 1, anglers with valid fishing permits and a trout permit may keep up to four trout. All Missouri residents over age 15 and under 65 must have a valid fishing permit, and all nonresidents over age 15 must have a fishing permit.
Information about fishing at Liberty Park Pond is available by calling MDC's Sedalia Office at (660) 530-5500.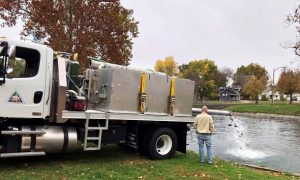 MDC stocked rainbow trout at Sedalia's Liberty Park Pond on Nov. 1. The winter trout fishing program provides a close-to-home outdoor opportunity for anglers.
Photo by Trish Yasger, Missouri Department of Conservation