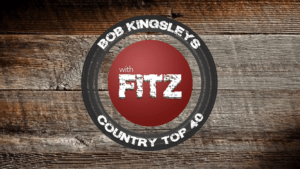 Sundays from 8 AM to Noon
FITZ counts down the top 40 country songs of the week while visiting with various artists who share personal stories and stories from the road.
Visit the "Country Top 40" website
---

Weekdays at 3:15 PM
The Community Spotlight puts the spotlight on Non-profit organization events in the KMMO listening area. If your non-profit organization has an event they'd like to talk about, contact Lou Michaels at 660-886-7422.
---

 Sunday at 9 PM
Join Hall of Fame disc jockey and voice of the Grand Ole Opry Bill Cody for a classic country radio show. Each week will feature something, sometimes an artist, sometimes music from a particular year, and occasionally a type of music like bluegrass.
---

Weekdays at 8:40
Sixty seconds of positive parenting from Focus on the Family. Visit their website.
---

Sun 7 PM
One of the most innovative, interesting, and interactive outdoor radio shows. Brain adopts the F.I.T. philosophy by having Fun, Informing the audience, and Teaching throughout the show. The topics range from conservation news, segments highlighting sponsors, and interviews with some of the big names of the outdoors like Kevin VanDam, Ray Scott, Matt Morrett, to name a few. Brain also strives to get youth involved in outdoor activities. Tune into to learn more, or download a show by visiting their website.
Sponsored by: Myturonet
---

Weekdays 2:30 PM
Loos Tales is dedicated to exploring the interesting people and places of Rural America. It is the creation of Trent Loos, a sixth generation United States farmer with a passion for the rural lifestyle. Visit the website.
---

Weekdays 3:45 PM
Listing of area pets that are lost, found, or up for adoption.
---

Weekdays 9:15 to 9:20 AM
Publicize your Rummage Sale, Garage Sale, Yard Sale, etc. on KMMO's Rummage Sale Round-up. For $5 your information is read for 3 days. You can add additional days for $1 per day. Multi family or group sales are $10 for 3 days with the price split between the participants. Please limit your ad to 25 words or less (not including the address). Please also include only one phone number or one address.
Real estate for sale or rent is not allowed, nor are services, home based businesses or businesses of any kind.
---

Weekdays 4:45 PM
Brought to you by Viking Athletic Goods of Marshall, Sports Q & A gives listeners a chance to test their sports knowledge with Lou and Tiffany each weekday afternoon. Winners get to suggest a topic for the next day's Sports Q & A and receive a Sports Q & A t-shirt.
---

Wanted items or items for sale listed for free on KMMO. Call into the show at 660-886-5666 between 9:25 and 10:00 AM Mon. through Fri.
Rules:
No businesses or items that you use routinely to supplement your income.
No Garage or Rummage sales on Swap Shop. We have the Rummage Sale Round-up for that.
You may list only ONE phone number or one address on the Swap Shop.
If you have a question as to what can go on the Swap Shop please ask the person answering the phone if your item can be advertised on Swap Shop, they will be happy to help you.