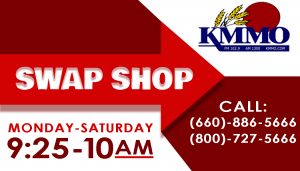 Wanted items or items for sale listed for free on KMMO.
Rules:
No Garage or rummage sales on Swap Shop. We have the Rummage Sale Round-up for that.
No hand guns.
If it is your primary source of income, please don't advertise it on the Swap Shop.
You may list only ONE phone number or one address on the Swap Shop.
If you have a question as to what can go on the Swap Shop please ask the person answering the phone if your item can be advertised on Swap Shop, they will be happy to help you. To participate, call 886-5666 or 1-800-727-5666 Monday through Saturday between 9:20 and 10 AM.
                                                   CLICK ON THE DATE BELOW FOR DESIRED SWAP SHOPS!   
For Sale Xbox,55gal Aquarium & Stand,Chainsaw. Call 202-2809 For Sale Steel Toed Boots. Call 886-0586 For Sale Finish Mower,Building Material,LF Electronics. Call 529-2628 For Sale 89 Ford F250 Flatbed. Call 651-9922 For Sale Remington 700.243, Browning.22 Rifle.