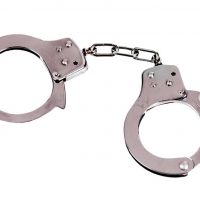 A Sedalia man has a warrant issued and has been charges with felonies for an alleged sexual assault earlier this week in Pettis County.
A probable-cause statement says Sedalia Police officers responded to a report of a possible sexual assault at a residence in the 1000 block of South Osage on Monday, March 11. Officers first spoke with an off-duty Pettis County deputy who said he heard a disturbance outside his residence and noticed a female in the roadway yelling for help. Officers spoke to the female victim who stated she allegedly was sexually assaulted by 24-year-old Jason Brinsfield. The victim was transported to a hospital for treatment and spoke to officers about the incident again after they spoke with Brinsfield and possible witnesses.
Online court documents say Brinsfield has been charged with two Unclassified Felonies For Rape or Attempted Rape in the First Degree and Sodomy or Attempted Sodomy in the First Degree. Bond has been set at $250,000 cash or surety.
Brinsfield's initial hearing is pending at Pettis County Circuit Court.