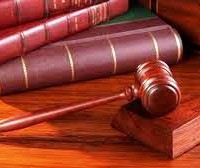 A 45-year-old Mendon man who has been charged with a felony relating to the death of person who was in his vehicle as he allegedly drove around barricades on a roadway in Chariton County on May 31 is due in court this week.
According to a probable-cause statement, authorities allege James W. Pleasant drove his vehicle through barricades which stated Route M was closed due to flooding. A woman, 32-year-old Alicia L. Meyer, who was primarily confined to a wheelchair, was inside the vehicle at the time. The report says Pleasant drove into the flooded roadway despite the rushing water; and his vehicle was washed off the south side of the roadway. Pleasant was able to escape through the trunk of the vehicle, but Meyer was trapped in the vehicle and died. Her body was located in the submerged vehicle at approximately noon on June 4.
Online court documents say Pleasant has been charged with a Class C Felony for Involuntary Manslaughter in the First Degree. Bond has been fixed at $50,000 cash only.
Pleasant waived his formal arraignment and entered a plea of not guilty on June 11. His next hearing is scheduled to begin at 1:30 p.m. Tuesday, September 10, at Chariton County Circuit Court.