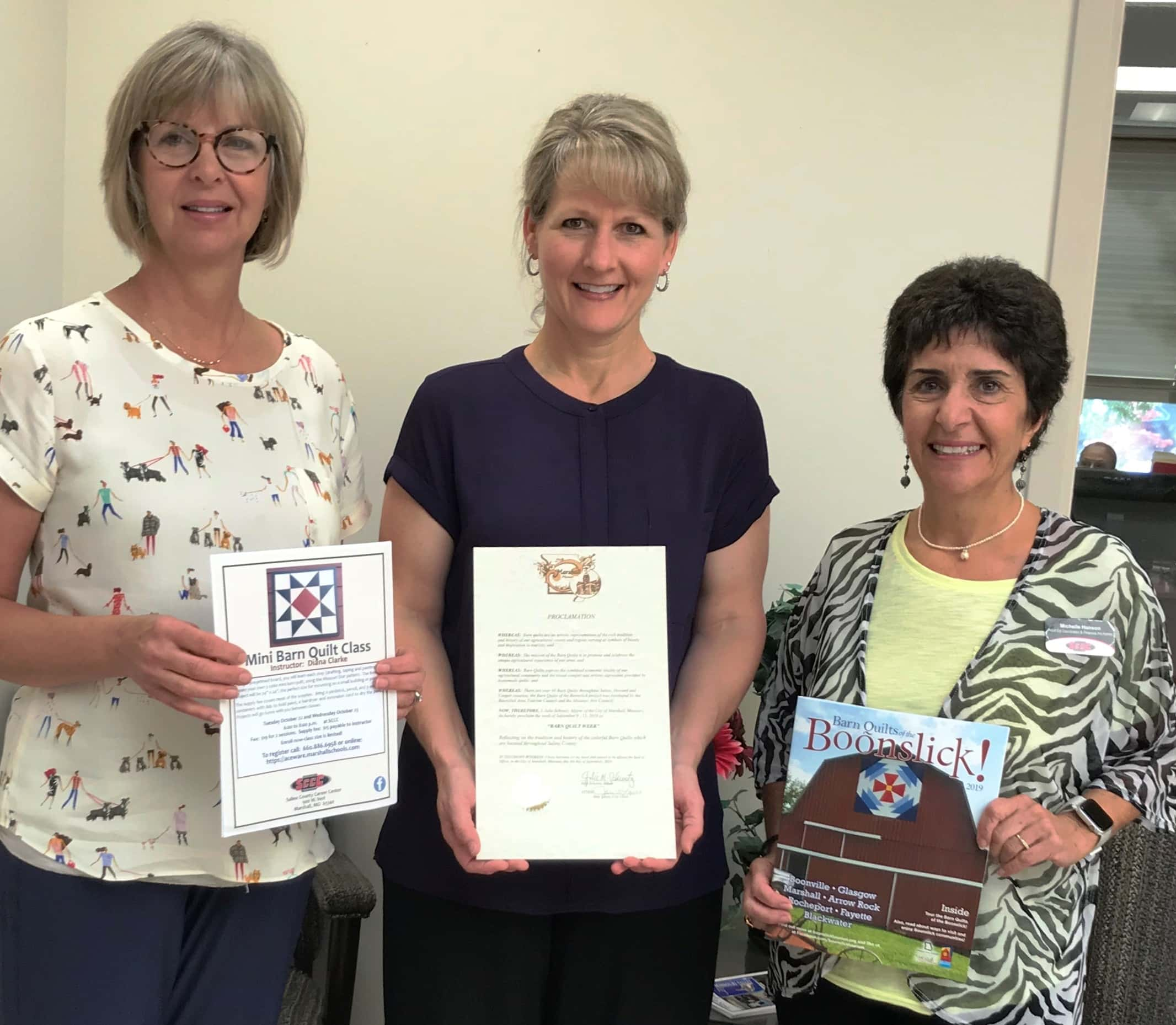 Marshall Mayor Julie Schwetz signed a proclamation declaring Barn Quilt Week September 9 – 13.
According to a news release, Barn quilts have become a tourism attraction in mid-Missouri, with visitors driving throughout the area to see the beautiful pieces of art. Visible from paved roads, 20 barn quilts hang throughout Saline county, and an additional 40 are scattered throughout Cooper and Howard counties.
The efforts are spearheaded by the Boonslick Area Tourism Council and the Missouri Arts Council, in collaboration with the Marshall Tourism Commission.
All 60 quilts are featured in the Barn Quilts of the Boonslick publication, which includes maps and highlights communities on the route, such as Marshall.
"The Barn Quilts of the Boonslick is one of our most popular tourism pieces," Mary Keller, Coordinator of Marshall Tourism said. "We hear about folks taking road trips and starting on one end of the county, stopping for lunch, and ending on the other."
For the past two semesters, the Saline County Career Center has supported the Barn Quilts of Saline County by offering classes teaching the techniques of making a mini barn quilt. A brief history of the barn quilt is included, and each student makes a mini barn quilt during the two-class session. This semester's class will be held October 22 and 23.
"The Mini Barn Quilt Class has become a regular in the Saline County Career Center class offerings," Keller said. "We appreciate collaborating with the career center to bring awareness to barn quilts, and folks enjoy making their own mini barn quilt in the class."
For more information about the Barn Quilts of Saline County, go to visitmarshallmo.com/barn-quilts.
For more information about the Mini Barn Quilt Class go to aceware.marshallschools.com.
Pictured, from left: Mary Keller, Marshall Tourism Coordinator, Marshall Mayor Julie Schwetz, and Michelle Hanson, Saline County Career Center Coordinator of Community Education. (Photo provided by Mary Keller)