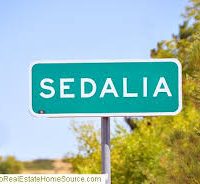 Smith-Cotton High School DECA students tripled their expectations in raising more than $1,600 for playground enhancements at the under-construction Loftus Early Childhood Center.
According to a news release, S-C juniors Envie Johnson and Austyn Wenner teamed up with the Pettis County Early Childhood Cooperative for a DECA Project Management Business Solutions project. The students planned, coordinated and hosted an auction of co-op students' artwork. The event, held Thursday, January 9, in the S-C High Commons and attended by more than 75 people, saw 17 pieces auctioned off, bringing in $1,631. Johnson and Wenner had set a goal of raising $500 to $750.
"We were in absolute shock," Wenner said. "We were expecting a good turnout, but the actual outcome caught us completely by surprise and we were completely ecstatic."
Johnson said their research showed that many people in the Sedalia community do not know about or completely understand the preschool co-op.
"We wanted to gain more community awareness for this organization and bring some attention to all of the great things that they do for students," she said.
S-C DECA adviser Angie Howard said: "Obviously, this project is touching because the high school kids are working with the preschoolers. It's also rewarding to watch the DECA members step up and take leadership roles within the chapter, where they take the initiative to not only communicate and set expectations with the chapter, but also learn to formally communicate with the community and media outlets."
To secure the items for the auction, Johnson, Wenner and other DECA students went to the co-op to direct the art creation process.
"Working with the kids was a great motive for us because we really enjoyed doing the project and we always look forward to working with the kids," Wenner said. "It was also great motivation because we wanted the whole project to go well not just for ourselves, but also for the kids."
Johnson was pleased with not just the money raised but also the engagement by the community.
"I think that the event was extremely successful," she said. "I was very pleased with the turnout. There was a good mix of students, staff, parents, and community members in attendance which was exactly what we were going for."
Johnson and Wenner next will put the finishing touches on their 15- to 20-page research paper and 15-minute presentation. They will be competing February 5 at the DECA District Competition in Independence. While advancing to the state competition is a priority, Howard stressed the value of skill-building and real-world experience the project provided.
"I don't know that the students even realize how much they are actually learning during projects like these. There are the expectations that all DECA projects set out to teach kids such as being academically prepared, community-oriented, and professionally responsible, but projects like these teach so much more," Howard said. "They learn to follow-up and follow through with commitments, they learn the importance of planning ahead, and they learn how to succeed and fail respectfully.
"Most importantly, I think they learn that they are capable of just about anything they set their mind to if they are willing to take risks, ask for help, and stay true to the tasks at hand."