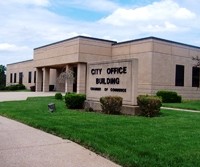 During the meeting of the Marshall City Council on Monday, May 18, Ward 1 Councilman Ron Ott said he received a voicemail from a concerned citizen regarding street-work projects within the city.
Ott said the person is concerned about parts of the community not getting the streets addressed like he believed they should.
City Administrator David Haugland said Municipal Services Director Bill Anderson was at the previous meeting and talked about the bids the city had for mill and overlay projects.
Ward 3 Councilman Dan Brandt says typically in March, the department drives every street in town to prioritize the needs.
Haugland said if people have questions about certain streets, call Municipal Services at (660) 886-3945 and leave a message. Haugland says Anderson certainly will call folks back and explain how the city prioritizes streets. But if the concerned person thinks a street needs repairs, crews will certainly go look at it.

Tags: