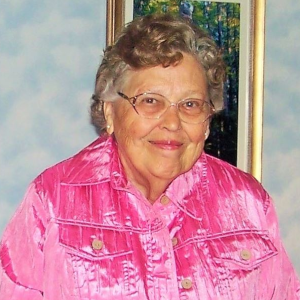 Betty Lou Dotson, 91, of Houstonia, MO, died Wednesday, March 31, 2021 at Good Shepherd Care Community in Concordia.
Funeral services will be held at 11:00 a.m. Monday, April 5, 2021 at Houstonia Baptist Church with Pastor Patrick Ryan and Pastor Kenneth Cripe officiating.  Burial will follow at Houstonia Cemetery.  Visitation will be from 10:00 a.m. to 11:00 a.m. Monday at the church.  In lieu of flowers, memorials are suggested to P.E.T.(Personal Equipment Transportation) or Wycliffe Bible Translators in care of Campbell-Lewis Funeral Home.  An online guestbook is available at www.campbell-lewis.com
Born January 5, 1930 in Houstonia, she was the daughter of the late Jason Glen Chamberlin and Nellie Esther Schondelmaier Chamberlin.  Betty Lou was a 1947 graduate of Hughesville High School and earned her bachelor's degree from Belhaven University in Jackson, MS.  On August 15, 1955 she married Bernard Dotson who preceded her in death.  In 2010 Betty Lou married Carl Dean Kreisel who survives of the home.
Betty Lou lived to serve others.  She was a teacher for some years and throughout her life was a missionary for the Kingdom of God.  Betty Lou traveled to various places serving as a missionary, but will be remembered as being a missionary who showed the love of Christ wherever she was.  She was always an active person even in her later years.  When she was younger she served as a 4-H Leader, was a member of the Houstonia Extension Club and worked on the family farm.  With her giving spirit, she worked with P.E.T., providing personal mobility to those in the greatest need, and started a W.M.U. chapter at her church, Houstonia Baptist Church.
In addition to her husband, Carl; she is survived by two children, Bernard Ray Dotson (Darlene) of rural Marshall and Carolyn Lourisa Darby (Jerry) of Longwood, NC; several grandchildren and great-grandchildren; two brothers, Jason R. Chamberlin (Faye Jabour) of Houstonia and William Thomas Chamberlin (Sandy Mae) of Green Ridge; as well as Carl's children and their families; nieces, nephews and cousins.
Betty Lou was preceded in death by her parents, first husband; a great-grandson, Trenton Robb; and a baby brother.