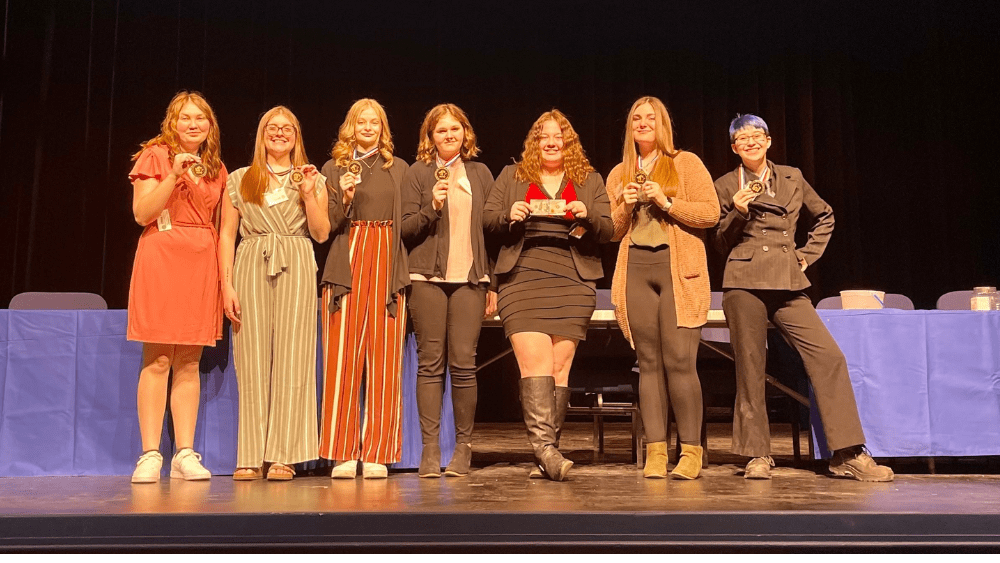 The Saline County Career Center (SCCC) Educators Rising chapter participated in the State Educators Rising competition and conference on Wednesday, March 15, 2023. Seven members will move on to the National Conference and Competition in Orlando, Florida, which will be held from June 29 to July 2, 2023.
Educators Rising allows students to explore careers in education, which is an important step in preparing teachers for tomorrow's schools. Members who participated included Western Region Vice-President of Missouri Educators Rising, Maddie Zdybel, as well as Bella Chevalier, Lexie Christensen. Claire Glenn, Dallas Miller, Katelyn Morgan and William Wenzl.
The following students received recognition in the following categories and have advanced to Nationals:
-Maddie Zdybel and Bella Chevalier, first place, Interactive Bulletin Board.
-Katelyn Morgan, first place, Project Visualize.
-Claire Glenn, third place, Exploring Support Service Careers.
-Lexie Christensen, fourth place, Exploring Non-Core Subject Teaching Careers.
-William Wenzl, fifth place, Exploring Administration Careers.
-Dallas Miller, sixth place, Educators Rising Moment.
Educators Rising is a national organization and a community-based movement in which students can explore career opportunities in education and showcase the skills they have gained in their education and training programs. The SCCC chapter is open to students in grades 11-12 at Marshall, Malta Bend, Slater and Sweet Springs high schools.
Photo courtesy of Saline County Career Center.