John Dutton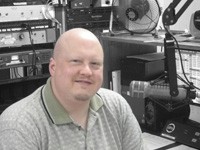 When John built a low-power AM radio transmitter for his high school science fair project, he had no idea what he would be getting into.
His first stint in "real" radio was at country station KLTI in Macon, Missouri, where he read news and hosted a weekly talk show. He later went on to work in Public Radio, at station KTBG in Warrensburg, Missouri, where he was the local host of "Morning Edition." John also hosted a weekly classic country radio show on KAYQ in Warsaw, Missouri.
John loves meteorology and hopes to go on a tornado chasing expedition someday. He now spends his time working the Mid-day at KMMO and looks forward to keeping you up-to-date with everything from your commodities to complete weather coverage.