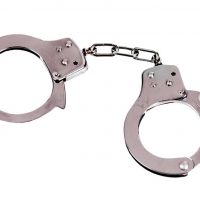 A La Monte man has been charged with a felony for allegedly kicking in a neighbor's door and entering the residence without permission on November 25.
According to a probable-cause statement, while they were sleeping in their bedroom, two residents say they were awakened to a banging sound on the outside of their residence. The banging they say became several kicks to their front door, and as they exited their bedroom they noticed Howard Martin standing inside their residence near the doorway yelling explicit comments.
The residents say they told Martin to get out of their house. They say Howard continued to make comments as he exited the house. Howard then walked back to his residence, which is adjacent to the one where the alleged incident took place.
The deputy made contact with Martin who reportedly said that he had knocked on the front door very hard numerous times and it opened. Martin also said that he did nothing wrong as he did not take any property from them.
According to court documents, Martin has been charged with a Class B Felony for Burglary in the First Degree. Bond has been set at $25,000 cash or surety.
Martin was arraigned on Wednesday, November 27. His next hearing is scheduled to be held at 10:30 a.m. Tuesday, December 3, at Pettis County Circuit Court.