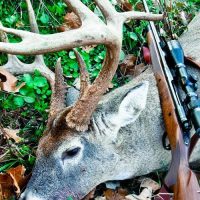 Preliminary data from the Missouri Department of Conservation (MDC) shows that young hunters ages 6 through 15 harvested 1,909 deer during Missouri's late youth portion of the firearms season, November 29 through December 1. Of the deer harvested, 752 were antlered bucks, 200 were button bucks and 957 were does.
Top counties for the late youth portion were Osage with 63 deer checked; Lincoln with 45; and Callaway with 41.
In the KMMO listening area, the top county was Howard with 29 deer checked. It was followed by Cooper and Pettis with 21 each; Carroll with 19; Lafayette with 17; Saline with 16; and Chariton with 10.
Last year's harvest total for the late youth firearms portion was 2,595, with 1,160 being antlered bucks, 338 button bucks and 1,097 does.
Deer hunting in Missouri continues with archery season through January 15, 2020. The antlerless portion of firearms deer season runs December 6-8. And, the alternative methods portion will run December 28 through January 7, 2020.
Photo provided by MDC.