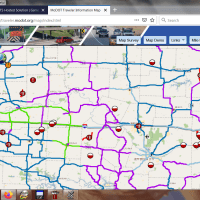 Travel could still be a little tricky Sunday but not as treacherous as Saturday.
MoDOT has been out working on the highways since yesterday and most of the roadways are in pretty good condition. According to MoDOT's traveler information map there are still a few roadways that are showing as partially covered and others that are showing that they are still covered.
There are still areas that appear to be wet but with the below freezing temperatures we had in the KMMO listening area over night, that could be black ice which very slick.
When traveling drive with caution! For the latest and most up to date information regarding road conditions you can check the Traveler Information Map on MoDOT's website or download the app from your app store.