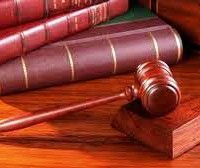 A hearing for an Ionia man who is accused of shooting a woman to death on May 15, 2019, is scheduled for Tuesday, January 14.
According to authorities, they responded to a residence in Ionia, where a woman said 45-year-old Travis Henderson was pointing a shotgun at her. When they arrived, 47-year-old Khristy Clark was found deceased from apparent gunshot wounds. Henderson reportedly fled the scene and was taken into custody after a short standoff with law enforcement on May 16.
Court documents say Henderson has been charged with a Class A Felony for First-Degree Murder and an Unclassified Felony for Armed Criminal Action. The judge has ordered no bond.
Henderson pleaded not guilty on August 20. His hearing is scheduled to be held at 1 p.m. A pre-trial conference is scheduled to be held on March 3; and Henderson's jury trial is scheduled to begin on April 29 at Benton County Circuit Court.