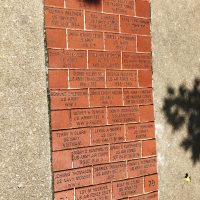 More bricks honoring area veterans will be placed at the "Veterans' Memory Walk of Honor" at the Saline County Courthouse in Marshall in a few months.
Former Saline County Northern District Commissioner Charlie Guthrie says the deadline to submit your application to purchase your brick and ensure the brick will be placed prior to the Memorial Day Ceremony is Friday, May 1.
Guthrie says the veteran does not have to be from Saline County.
Bricks honoring veterans cost $50 each, and applications are available at the Saline County Collector's, Recorder of Deeds or Treasurer's office at the courthouse; at Dale Zank's State Farm Insurance office; or from Ed Reis at Wood & Huston Bank in Marshall.
For more information, contact Guthrie at (660) 631-9355.