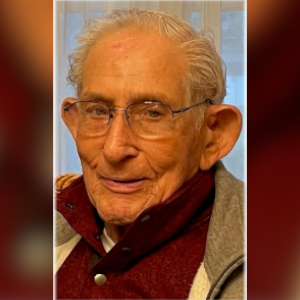 Jack Francis Veulemans, of Sedalia, formerly of Tipton, passed into the care of our Lord on Monday, January 25, 2021. He was 93.
Born January 3, 1928, at the family home in Gravois Mills, he was the second of five children of John Dominick and Edith May (Higbee) Veulemans.
The family moved to Tipton and at age eight, before and after school, Jack began working with his grandfather, father and uncle at the family grain elevator. When the family sold the elevator business to MFA in the mid-sixties, Jack started Veulemans Elevator in Otterville. He grew the business throughout the decades and was respected in the industry. For the next many years, Jack provided employment for many local men whom he lovingly referred to as "the boys." Jack prayerfully and humbly led by example in all aspects of his life. He sold the elevator in the early nineties, but continued to frequent there, sometimes working, until about 2010.
Jack was a 1946 graduate of Tipton High School and immediately entered the Navy to serve at the end of World War II aboard the USS Yosemite and USS Yellowstone. He loved the Navy and was fond of his time spent in Italy and the Mediterranean. His rank was Seaman Second Class.
Jack married Glenda Holliday, the love of his life, on June 9, 1951, at St. Andrew's Catholic Church. The reception was held at the Holliday home in Bunceton. It was attended by a large crowd of family and friends. In fact, cars were parked on both sides of the street from downtown Bunceton out to Bud's Place. Jack and Glenda were truly meant to be. He felt there was nobody else for him. Upon looking at a picture just days ago, he referred to themselves as "the happy couple."
Jack was a friend to many. He and Glenda loved to entertain. Their doors were always open, anytime day or night. They enjoyed traveling with family and friends. He always put others needs before his own and had a heart of gold. He enjoyed golfing and supporting his grandchildren in their activities.
He was a Christian man and was a member of St. Andrew's Catholic Church. He was a charter member of the Tipton Country Club, a 60-year Knights of Columbus member, and a member of American Legion Edgar Cole Post 304. After moving to Sedalia, he volunteered with the Red Cross at Bothwell Regional Health Center.
He kept busy with his coffee friends, lately at McDonald's, and exercising at Peak Performance. He tried to stay active and walked everyday either at State Fair Community College or Walmart. He and the family appreciate all those who cared for him at Bothwell, Peak Performance and the VA Medical Center in Columbia.
Survivors include two daughters, Jennifer Vanderlinden (Ben) of Sedalia, and Lori Cook (Kent) of Columbia; grandsons, Jordan Cook, Zachary Cook and Nathan Vanderlinden; granddaughter, Heather Vanderlinden; six great-grandchildren; one great-great-grandchild; a brother, James Veulemans of Camdenton; a sister, Catherine Nawrocki of Anniston, AL; and numerous nieces and nephews.
In addition to his wife and parents, he was preceded in death by an infant son, Philip, who was only ten days old; a brother, Philip Veulemans; and a sister, Billie Huddleston.
Due to the pandemic, a private Mass of Christian Burial will be held at St. Andrew's Catholic Church in Tipton, with Fr. Alex Gabriel officiating. Although the funeral will be limited to family only, it will be livestreamed on Meisenheimer Funeral Home's Facebook page at 10:00 a.m. Saturday, January 30, 2021.
There will be no formal visitation, but friends are welcome to pay their respects and sign the guest book between 11:00 a.m. and 7:00 p.m. Friday, January 29, 2021, at Meisenheimer Funeral Home in Tipton.
A public graveside service and burial with military honors will be held at a future date at St. Andrew's Cemetery.
Memorial contributions are suggested to St. Andrew's Catholic Church, the Bothwell Foundation, or the Steven Huhman Memorial Foundation.