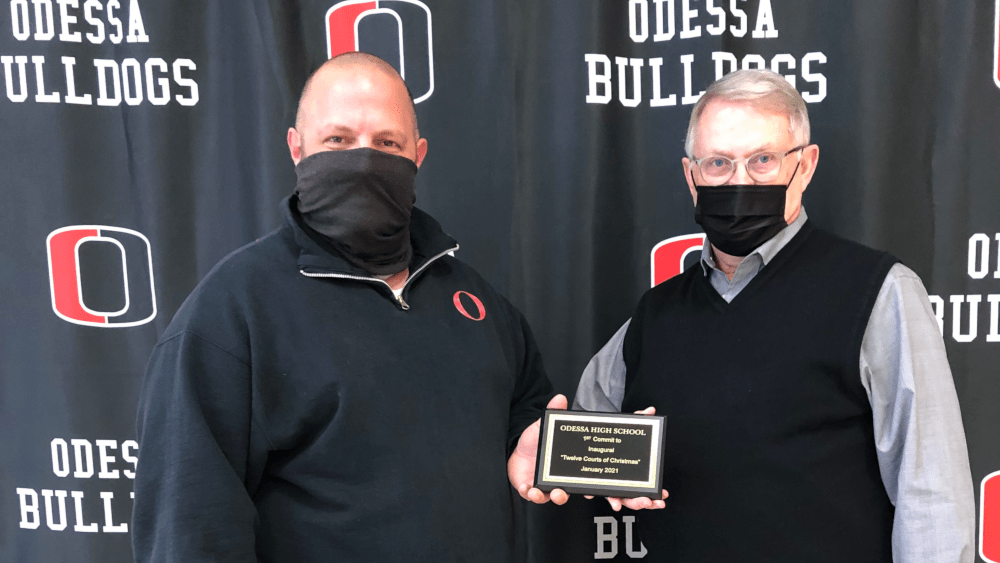 Announcement was made this week that Odessa High School will compete in the 2021 "Twelve Courts of Christmas" scheduled for Hy-Vee Arena (formerly Kemper Arena) in Kansas City this December.
The first-time event is a shootout format for high school varsity basketball teams (both boys and girls), and plans include hosting over 150 teams from the midwest. The dates are tentatively set for December 18 through December 31, with individual dates of play to be negotiated.
Director of the inaugural event Steve Maxey presented Odessa Activity Director Mat Vleisides with a plaque indicating Odessa High School as the first commitment for the big event.
Maxey is thrilled with the response from schools throughout the metro area, plus many from across the states of Missouri, Kansas, Iowa, Nebraska, Arkansas and Oklahoma.
The event is called "The Twelve Courts of Christmas" as the Hy-Vee Arena has been renovated and includes 12 basketball courts for action in addition to many other amenities. Officials of the event hope to expand the event in years to come to allow teams from all over the United States to participate in a nationally-recognized holiday shootout.
Schools in the area wishing to obtain more information are urged to contact Maxey at (660) 359-7244.