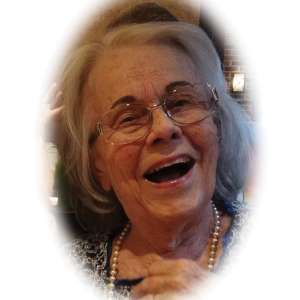 Jeanne Silverthorn, 96, of Marshall, died Monday, September 13, at Golden Oaks Assisted Living in rural Marshall. With heavy hearts the Silverthorn family regrets to announce the passing of our beloved Jeanne. Her effervescent charm, sense of humor and warm heart will be deeply missed by us, but we rejoice that she has now gone to reunite with family and friends she has not seen for a long time. There she will be doing the things she enjoyed most where music, love and laughter are guaranteed.
Private family graveside services will be held at Sunset Gardens Cemetery in Marshall, with Rev. Keith Vessell officiating. Memorials are suggested to the charity of the donor's choice and an online guestbook is available at www.campbell-lewis.com
Born July 20, 1925, in Kansas, she was the daughter of the late Dean Reitz and Ferne Steel Reitz.  Jeanne graduated from high school in Kansas and then attended Central Missouri State University in Warrensburg, MO, where she met L. Daniel Silverthorn.  On August 8, 1948, she and Dan were married and were blessed to celebrate 73 years of marriage together.  While she helped out in the family furniture business, Jeanne enjoyed raising their family and taking care of the home.  She had lived in Saline County since 1948, first living in Slater, then Marshall.  She was a member of First United Methodist Church and while in Slater was active in several women's groups.
In addition to her husband, L. Daniel Silverthorn; she is survived by one daughter, Rita Silverthorn of Marshall; one son, Mark Silverthorn of Branson; two grandchildren, Evelena Ruether and Robert Ruether and his wife, Pavi; and two great grandchildren, Luke and Olivia Ruether.
Jeanne was preceded in death by her parents; one son, Alan Silverthorn; and one brother, Dean Reitz.