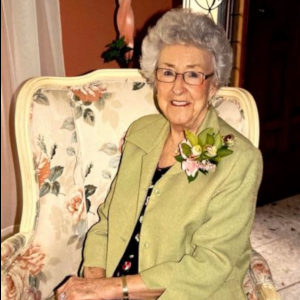 Genevieve Johnson Mitchell, born April 4th, 1921, passed away peacefully, at the age of 100, on Sunday, January 16th, 2022 at Big Bend Retirement Home with granddaughter Jennifer King by her side.
Funeral services will be held at 11 a.m. Saturday, January 22, at Campbell-Lewis Chapel in Marshall with William W. Harlow officiating.  Burial will follow at Slater City Cemetery.  Visitation will be from 10 to 11 a.m. Saturday at the funeral home.  In lieu of flowers, memorials are suggested to the Buddy Pack Program and an online guestbook is available at www.campbell-lewis.com
Jenny was the second-born daughter of Ralph and Ora Johnson and little sister to Ruby Delena Johnson. On March 11, 1937, she married the love of her life, Thomas Jordan Mitchell. With a love like no other, they created a beautiful life together in Slater, MO. Tom was a farmer, insurance, and real estate salesman, but above all, a gentleman. Jenny was a homemaker and Sunday school teacher. Tom and Jenny welcomed their daughter Nancy Sue Mitchell Harris to the world on August 7th, 1941. Jenny was known for many things; her beautiful gardens, meticulously manicured lawn, delicious homemade pies, and her love and devotion to God. In addition to being a devoted member of the Southside Assembly of God church, Jenny enjoyed dancing, playing cards, and spending time with loved ones in her free time. She served many roles in the Salter chapter of the Democrat Club, as well.
Genevieve was preceded in death by her parents, sister, beloved husband, an infant son, Thomas Omar Mitchell; and daughter, Nancy Sue Harris.
She is survived by granddaughter, Jennifer King and her husband Edward King of Kansas City, MO; two great-grandchildren, Jordan Lynn Mitchell Fields and Mitchell Kenneth King of Kansas City, MO.